In order to win the epidemic prevention and control war around the world, many enterprises took advantage of their special advantages to support the epidemic prevention work. As a Chinese enterprise, Ruisen Technology has also made full use of its own technology accumulation to produce fully automatic mask machines to help fight the epidemic.
As a full-automatic mask machine manufacturer in China, Ruison Technology has achieved mass production of masks in a short time. Previously, Ruison technology engineers worked on the automatic mask machine night and day, and finally completed development and trial production and successfully rolled off the production line. They have been delivered to some companies and will be put into production immediately.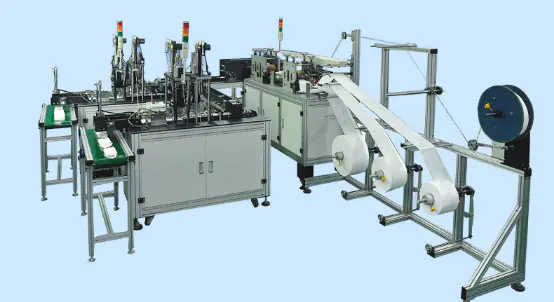 Automatic mask machine
Ruison Technology's automatic mask machine has specified high standards at the beginning of research and development. The entire equipment has the characteristics of high degree of automation, high production efficiency, and stable operation of the equipment. With simple training, one person can operate. At the critical moment of the current epidemic prevention and control, production capacity can be quickly formed with less cost, which will play a positive role in increasing the production capacity of masks and alleviating the demand for epidemic prevention and control masks.

Fully automatic mask machine to produce finished products
I believe that with the concerted efforts of the whole world, and under the premise that China provides the world with a successful anti-epidemic experience, mankind will be able to overcome the epidemic as soon as possible, and everyone is welcome to work with us to fight the epidemic.